CoolSculpting®
The unique CoolSculpting® fat-freezing technology is a nonsurgical, scientifically proven way to reduce pockets of fat in trouble spots such as the abdomen, flanks, or under the chin in as little as one session. On average, each CoolSculpting® treatment gives you a 20% fat reduction in the treatment area.
What is CoolSculpting®?
The Cool Solution is the More Natural Solution.
Procedures that use laser, sonic waves and even surgery to remove fat can actually destroy other tissue in the process by burning, shattering or extracting non-fat cells. This requires downtime for your body to heal. Totally uncool. Fortunately, CoolSculpting® doesn't burn, shatter or extract any cells. Developed by Harvard scientists, our unique, FDA-cleared, patented procedure uses a targeted cooling process that kills the fat cells underneath the skin, literally freezing them to the point of elimination. Only fat cells are frozen. Your healthy skin cells remain, well, healthy. No knives. No suction hoses. No needles. No scars. Once crystallized, the fat cells die and are naturally eliminated from your body. In a few months, boom: say hello to a new you.
Benefits of CoolSculpting
Proven science and real results.
CoolSculpting®'s fat-freezing technology gives long-term results that make trouble spots a lot less troubling.
Fat cells don't like the cold and at a certain temperature, they will freeze. Once that happens, your body will naturally eliminate the dead cells in 1-3 months or more, resulting in up to 20%-25% reduction of fat in a treated area.
Long term results are based on two case reports.
Minimal Downtime and Lasting Results
Unlike a lot of other procedures, CoolSculpting® takes very little time and is pretty simple to fit into your daily life. After your CoolSculpting® treatment you can typically get right back to your busy day. Each treatment lasts one hour – the same time you might spend at the gym. So you can easily fit your appointment into a lunch break.
After one visit, you'll typically see a noticeable reduction of fat. It takes a few months to fully realize the effects, mainly because it takes that long for your body to naturally dispose of the fat cells. And yes, you can lose even more with additional appointments if you and your doctor deem it necessary.
So after a few months, your clothes will fit better and you will look better. As long as you maintain your normal diet and exercise, your long-term results should remain stable. Hello, you again. How cool is that?
How is CoolSculpting Performed?
Many of us have stubborn fat despite diet and exercise.
CoolSculpting technology uses controlled cooling to target and kill only these fat cells.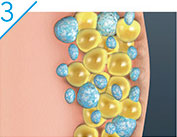 In the weeks to follow, your body naturally processes the fat and eliminates these dead cells.
CoolSculpting® procedure results are long-term, as treated fat cells are gone for good.
Reference: 1. Data on file. ZELTIQ Aesthetics, Inc.
CoolSculpting Timeline
You'll see and feel the change in 1-3 months or more. Because your experience is customized for your body, the transformation is clear. One treatment with CoolSculpting® reduces up to 20% of fat cells in the treated area. You may need more than one treatment to reach your desired results and get the most out of your CoolSculpting® experience. Results and Patient Experience May Vary. We are #1 in CoolSculpting®!
What to Expect During Your CoolSculpting® Consultation
We want to meet with you to identify goals, discuss the technology, provide general information, and make you feel as comfortable as possible. Every CoolSculpting® session is different—it all depends on your natural body shape and the specific areas of fat you are targeting.
Your treatment is completely customizable, and we will work with you to create a plan that's quite literally made for you. Come prepared with these questions: Where do you want to reshape your body? Have you ever had a medical aesthetic procedure to improve your appearance? Would you consider having a nonsurgical fat reduction treatment? Are you generally at or near your ideal body weight but have areas of excess fat? Based on your answers, the CoolSculpting® procedure may be able to help you reduce your unwanted stubborn fat. We will then consider whether you could benefit from a CoolSculpting® treatment.
Financing Options Available
In general, insurance doesn't cover the cost of CoolSculpting® or other cosmetic procedures because these treatments are elective. It's best to check with your insurance provider to determine if either of these will be covered by your private insurance. GreensSky and CareCredit provide you with flexible and convenient financing options for your treatment plans.
Schedule a Consultation
Meet with our staff to discuss your goals and expectations for desired results.